Legal notice
Privacy Policy
Welcome to the website www.faurecia.de of Faurecia Automotive GmbH (hereinafter: Faurecia).
Data protection and data security when using our website are very important to us. We are therefore committed to protecting your privacy and treating your data confidentially. We would like to inform you at this point which of your personal data we collect in relation to your visit to our website and for what purposes it is used.
Since changes in the law or changes in our internal company processes may make it necessary to adapt this data protection declaration, we ask you to inform yourself regularly when you visit our website.
1. Person in charge
Responsible for data processing is:
Faurecia Automotive GmbH
Garbsener Landstrasse 7
30419 Hanover
Germany
E-mail:  info@faurecia.com
Web: www.faurecia.de

2. Data Protection Officer (DPO)
You can reach our data protection officer as follows:
Faurecia Automotive GmbH
Attn: Data Protection Officer
Garbsener Landstraße 7
30419 Hanover, Germany
Germany
You can contact our data protection officer confidentially at any time using the above contact details. In addition, we have set up the following internal e-mail address to assert your rights: dpo@faurecia.com.
All other relevant information (third parties accessing the data, relationships with our service providers, transfer of your data outside the European Economic Area, etc.) can be found in the following sections of our Privacy Policy.
3. Scope of application of the privacy policy
This data protection declaration applies exclusively to the Faurecia website www.faurecia.de (https://www.faurecia.de) ("the Website"). For websites of other providers to which links are provided on our Website, the respective data protection notices of these providers shall apply. This includes in particular the website with the job portal for which Faurecia SE, Nanterre (France) is the provider and responsible party, as well as the websites of the other companies of the Faurecia Group.
4. What is personal data?
Personal data is any information about a person that can be directly or indirectly attributed to that person. For example, your name, the pseudonym you use online, your picture, your address, your telephone number, etc. are personal data. Information that does not enable us to establish a connection with you is not personal data.
5. What data does Faurecia collect and how does it process it?
In the following overview, you will find a list of the processing activities pursuant to Artt. 13, 14 DSGVO that take place on this website.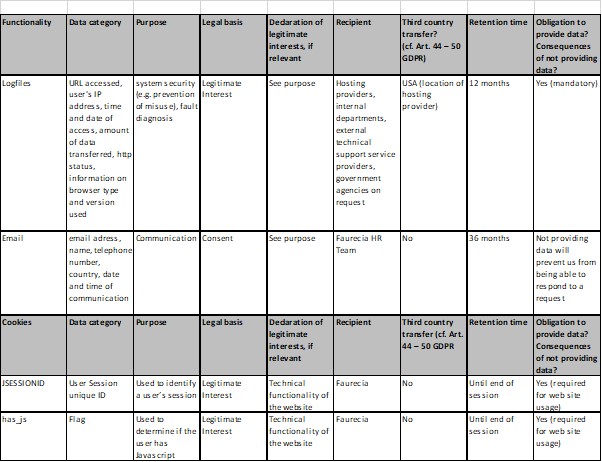 You can visit most pages of the website without revealing your identity.
If you enter your name and email address as well as your request in the contact form in the "Contact us" section, this data will be forwarded to us and stored for the period of processing. In addition to the main navigation, you can also reach the contact form via the "Contact us" button in the "News/Press" section as well as under "About us - Your contact persons" in the "Are you a customer, partner or supplier?" section.
Since we are particularly interested in attracting talented new employees from all over the world, we have also set up a special page with job openings at each Faurecia site. If you click on "Apply Now" in the upper right-hand corner of the homepage, or if you click on the section "Looking for a job, apprenticeship or internship?" in the "About Us - Your Contacts" section, you will be taken to this page (https://careers.faurecia.com.) Please note that the legal notices apply here, which are available at the foot of the page under "Legal notice".
6.  Cookies

We use cookies for the provision of the web offer. Cookies are files that the browser you use stores on your terminal device when you visit the website. They are stored either until you close your browser (so-called temporary or session cookies) or for a predefined period of time, unless you manually delete them (so-called permanent cookies).
You can prevent the storage of cookies on your computer by changing your browser settings accordingly, so that cookies are not accepted or you are notified before a cookie is set. However, this may limit the functionality of our website.
You can find more information on how to change your cookie settings in the help menu of your browser:
For mobile devices, you can find the relevant information on the following pages:
7. Protection of the processed data
Insofar as we collect data, we or our contract processor store your data on specially protected servers. Access to this data is only possible for a few specially authorized persons who are involved in technical, commercial or editorial support.
To prevent loss or misuse of the data stored by Faurecia, we take extensive technical and organizational security precautions that are regularly reviewed and adapted to technological developments.
The data collected will be processed only by authorized personnel in accordance with our requirements for confidentiality and security in the creation of files, exchanges with our partners and subcontractors and the transmission of such data.
8. Your rights in relation to the personal data processed by us
You have the right to:
To receive information about the data processed about you,
to restrict certain uses of your data without deleting it,
to rectify information which, despite our efforts to maintain an accurate and up-to-date database, is inaccurate, and to ask us to delete certain information,
to request that you receive the data you have provided in a structured, common and machine-readable format or that it be transferred to another controller, if you have provided data on the basis of a contract or consent,
in the event that you have given your consent to the processing of your data, to revoke this consent at any time with effect for the future. The lawfulness of the processing of your data until the revocation remains unaffected.
lodge a complaint with a data protection supervisory authority, in particular in the Member State of your habitual residence, place of work or place of the alleged infringement, if you believe that the processing of personal data concerning you is unlawful. This can be done, for example, with the data protection supervisory authority responsible for us, the State Commissioner for Data Protection of Lower Saxony.
Right of objection
You also have the right to object at any time, on grounds relating to your particular situation, to the processing of your personal data that is carried out on the basis of Article 6 (1) sentence 1 f) DSGVO; this also applies to profiling based on these provisions. This personal data will then no longer be processed for these purposes, unless compelling legitimate grounds for the processing can be demonstrated which override your interests, rights and freedoms, or the processing serves to assert, exercise or defend legal claims.
To exercise your rights, we have set up the following internal e-mail address: dpo@faurecia.com. You can also exercise your rights using the contact details listed in Section 1.
In addition, you can contact our data protection officer confidentially at any time using the contact details listed in Section 2.
Status 08.2022